My Sister, the Serial Killer by Oyinkan Braithwaite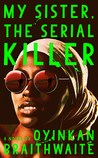 My Sister, the Serial Killer
by
Oyinkan Braithwaite
My rating:
3 of 5 stars
I've seen this book all over the internet. Curiosity got the better of me and I gave in to the hype. The cover is appealing and the blurb sucked me in.
But that's pretty much where it stops for me.
I wanted to love it, but I just didn't. The writing style was a turn off to me because of the short, choppy chapters. However, it was a
very quick read
.
This book was less about murders (Yay!) and more about
the relationship between sisters
, Ayoola (the serial killer) and Korede (the nurse and murder-site clean up crew.) Ayoola is the beautiful, aloof sister, who all the men love, while Korede is a the sensible, responsible one who literally cleans up Ayoola's messes.
I have sisters, so I understand the love and connection.
But I never really understood why Korede kept helping Ayoola. Ayoola is clearly not right in the head, with no remorse for her actions. And thanks to Korede, Ayoola also has
no consequences
for her actions either.
It made it impossible for me to really like or connect with either characters
- and I think that is important in a book. 3 stars because it's easy enough to read, but I just didn't really connect.
View all my reviews